About Kyla
Kyla has spent most of her life in Snohomish County and is a dual American-Canadian citizen. From a young age, Kyla, her mother, and her sister had spa nights. They did face masks, gave each other pedicures, and massages while watching romantic comedies. This quality time with her mother and sister jump started her love for esthetics and the beauty industry. 
As a teenager, Kyla struggled with acne. This led her to spend hours combing the internet and reading article after article trying to solve her skin problems. This is when she knew that she wanted to dedicate her life to esthetics. While she grew up squeamish and never imagined entering medical esthetics, the year between high school and college changed that.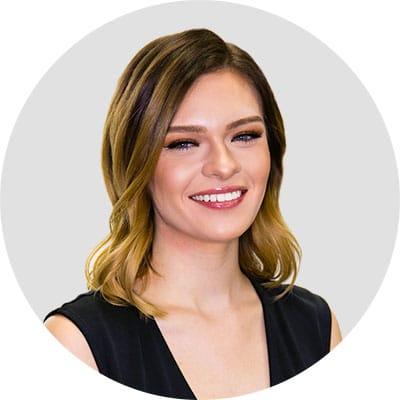 Volunteering in Uganda, Kyla–who originally went to volunteer in schools and orphanages–quickly realized the scale of their medical needs. She became desensitized quickly and a desire to help people took over her former squeamishness . After attending esthetics school, she gravitated towards the non-invasive skincare treatments and medical aspects of esthetics. 
When not helping patients achieve their esthetic goals, Kyla enjoys being a homebody with her husband and chocolate lab, Kona. You can often find them binge watching The Office on the weekends. She enjoys visiting the San Juan Islands to go clam digging, shrimping, kayaking, and on walks along the water.