THE GLOW UP PACKAGE WITH PRP SEATTLE, BELLEVUE, AND KIRKLAND
As the largest organ in our body, the skin requires constant care and maintenance. It is also one of the first places to show aging and damage from the environment. Thankfully, there are many ways to treat this aging and skin damage. Microneedling and chemical peels are two of the most popular and effective ways to care for the skin on a medical grade level. PRP In Seattle takes this a step further by supercharging the treatment with platelet rich plasma. Introducing the Glow Up Package the absolute best PRP skincare Seattle, Bellevue, and Kirkland have to offer.
CUSTOMIZED MEDICAL GRADE PRP SKINCARE: THE GLOW UP PACKAGE
No two people's skin is the same. One may have dry, flaky skin that has trouble holding moisture, while another has overly oily skin and frequent acne breakouts. Each of these patients requires a customized medical grade skincare treatment plan to address their specific concerns. The plan also needs to factor in their unique skin and medical history.
The master estheticians at PRP In Seattle put together a package designed to address nearly all major skin problems. It is also highly customizable and two patients may receive modified versions of the same regimen. While effective without platelet rich plasma, PRP increases the efficacy of the package. This is known as the Glow Up Package with PRP.
The Glow Up Package is a professional skincare regimen that consists of three chemical peels and three microneedling with PRP sessions. The treatments are performed over a few months with each one spaced roughly four to six weeks apart.
Interested In The Glow Up Package?
Microneedling & Chemical Peels
Microneedling and chemical peels are both medical grade skincare procedures that resurface the skin. Though, the technique and philosophy each treatment use to resurface vary. When alternating and combining microneedling and chemical peels, patients can get the best of both to improve the quality of their skin. Let's take a closer look at what each procedure does and what it does.
PRP Microneedling
Chemical Peels

Mechanical exfoliation

Rejuvenates the skin via micro injuries

Can be performed with PRP or without

Reaches deeper into the skin

Safe for all skin types and tones

Less likely to cause skin peeling

Depths of the microneedles customized per the patient and treatment area(s)

Induces a more extensive collagen response

Can be combined with radiofrequency

Chemical exfoliation

Rejuvenates the skin via peeling

Many peel options that come in different strengths

Primarily treats the top layers of skin

Does not utilize PRP

More likely to cause skin peeling

Stronger peels may not be suitable for darker skin tones

Highly individualized

Mild collagen response
Benefits
There are many benefits to combining and alternating PRP microneedling and chemical peels. Additionally, each procedure has individual benefits that you can accrue following each procedure. Since the Glow Up Package with PRP is performed over several weeks, it is designed to make noticeable, long lasting changes to the quality of your skin. Let's look at the benefits of each treatment individually and then when combined into the package.
Microneedling With PRP Benefits
Improvements in skin texture

Treatment of hyperpigmentation

Reduction in the appearance of acne scars

Treatment of surgical scars

Brighter complexion

Fewer (and potentially less severe) acne breakouts

Reduction in the appearance of fine lines and wrinkles

Prevent future aging

Address sun damaged skin

Promote thicker, less crepey textured skin

Improve the look of stretch marks

Aid in pore miniaturization

Increases collagen production

No foreign chemicals applied to the skin

Non-surgical

Numbing keeps pain to a minimum or non-existent

Increases efficacy of other procedures and skincare products

Little to no downtime

High satisfaction rate
Chemical Peel Benefits
Highly customizable to patient's skin type, tone, and treatment needs

Treats discoloration

Removes dead skin

Creates a smooth and more even skin texture

Kills bacteria on the surface of the skin

Reduces acne breakouts

Lessens redness

Treats a dull complexion

Improves the look of acne scars

Provides moisture and nourishment

May help treat conditions such as melasma, cystic acne, and rosacea

Often performed in an hour or less

Varying treatment levels make it a great starter treatment

Little to no downtime

Frequently performed treatment
Glow Up Package Benefits
Treats skin on superficial and deeper levels

Alternates treatments for better results

Each procedure customized

Aims to make improvements to the overall quality and appearance of your skin

Ideal for acne treatment

Versatile and can treat most major skin concerns including acne, aging, pigmentation issues, and scarring
THE GLOW UP PACKAGE WITH PRP vs. WITHOUT
The first version of the Glow Up Package did not include the use of platelet rich plasma during microneedling treatments. However, when treating patients with more extensive concerns such as sun damage, more advanced aging, and deep acne scars, they found that PRP was ideal for these patients because it supercharged the overall collagen production.
Undergoing the Glow Up Package with or without PRP can make major, visible improvements to the skin. Though, because the presence of PRP is one of the body's indications for healing, it speeds up and increases the amount of collagen produced. Therefore, for patients who may normally need several microneedling treatments or chemical peels, this reduces the overall number of sessions needed to see their goal results.
There may be times when your master esthetician will recommend PRP. This is generally for patients where the blood draw would be riskier or unnecessary based on their needs. Platelet rich plasma will improve results for people, but it is important to discuss it with your master esthetician during your consultation.
Consultation
The first step to improving your skin with the best PRP skincare in Seattle is to schedule a consultation with a master esthetician. At this consultation, your master esthetician will want to know about your concerns and what you want to achieve with treatment. After this, they may ask about aspects of your medical history and lifestyle. This information helps them choose the safest and most effective options for you.
Finally, they will conduct a short examination of the skin in the treatment area. This allows them to identify the problem areas and potential causes. At this point, your master esthetician can determine if you are a good candidate for the Glow Up Package.
Procedures
The Glow Up Package will begin with either your first microneedling or chemical peel treatment. From there, the treatments will alternate every four to six weeks. Each procedure may vary slightly. For example, you may undergo a lactic acid peel, then a VI Peel, and finish off with another lactic acid peel. Your master esthetician will discuss this with you during your appointment.
Microneedling with PRP will begin by cleansing and disinfecting your face. Your master esthetician then applies numbing cream. While you numb, a medical assistant will draw your blood and begin preparing the PRP in the centrifuge. 
Once the PRP is ready and you are adequately numb, your master esthetician will begin the treatment. Applying PRP, they will then push it deep into the dermis with the microneedling pen. This stimulates healing, collagen production, and rejuvenation. When treating the full face, the treatment takes between an hour and an hour and a half.
The chemical peels are generally applied in layers. Depending on the type of peel, it may or may not be removed before you leave. The skin is not usually numbed beforehand, though most peels only cause some minor stinging and tightness. Most peels take around an hour.
Aftercare
Following both treatments, your skin will be sun sensitive. Wearing sunscreen and staying out of the sun will prevent irritation and promote better results. While the procedures have different side effects, the aftercare instructions are widely the same. Examples of what aftercare following Seattle PRP microneedling and chemical peels may include:
Avoid exfoliation and cleansing treatments for about one to three days (chemical peels usually require a longer time away from these treatments)

Limit sun exposure and wear sunscreen

Do not pick at your skin or pull off peeling skin

Avoid exercise or raising body temperature for at least a day
As far as the difference in side effects, microneedling tends to cause redness, minor swelling, and some skin tightness. The main side effect of chemical peels is skin peeling after a few days. Generally, all side effects should resolve in about a week. Makeup can be applied after one day with microneedling and when peeling resolves after a chemical peel.
Testimonials
The staff and people here are very kind, everyone works hard to make sure you have a good experience. Very trans+ friendly! – AJ
Honestly was the most calming experience for my first time and I'm very happy with the results also the staff is really amazing as well! They're so quick and friendly with their responses and after surgery questions as well! I never had to wait too long! – Morgan
I had a hair transplant here and the service and results are amazing. I couldn't be happier! Everybody here is incredible. – Garrett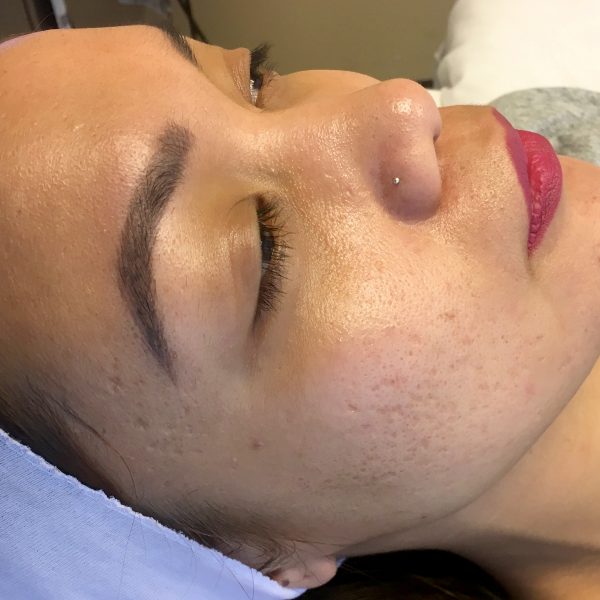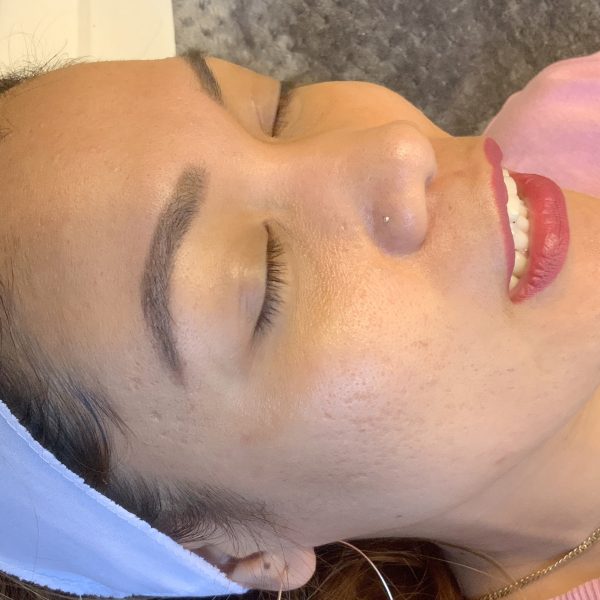 FREQUENTLY ASKED QUESTIONS
What Does Platelet Rich Plasma Add To Microneedling?
Platelet rich plasma is a growth factor found in your blood that naturally increases when there is a wound. Therefore, when applied during microneedling, it supercharges the healing process that microneedling already stimulates. PRP has a long history of being used in surgery to aid in the healing of surgical wounds. This same technology during PRP microneedling.
Is It Safe To Combine Chemical Peels And Microneedling With PRP?
Yes, as long as you space the treatments far enough apart, and your master esthetician determines you are a good candidate for the treatments. For some patients, your master esthetician may recommend spreading treatments further apart.
What Are The Medical Uses Of Platelet Rich Plasma?
Platelet rich plasma started to gain prominence in medicine and surgery in the late 20th century. It is commonly used to help athletes heal from injuries quicker and better. PRP injections can also address joint pain and issues. As mentioned earlier, it is still used in surgery today to promote healthy and quick wound healing.
Who Performs The Glow Up Package Procedures And How Qualified Are They?
At PRP In Seattle, only qualified master estheticians perform the Glow Up Package. Each provider has their masters in esthetics, which means they received esthetic as well as basic medical training as it pertains to treating the skin. They focus both on beautification and treatment, unlike other providers who only focus on one or the other.
With hands-on training in various types of chemical peels and microneedling, the master estheticians at PRP In Seattle are fully equipped to help you improve your skin. A few of our master estheticians are also certified as medical assistants which gives them the know how to prepare and utilize PRP optimally.
THE BEST SEATTLE PRP SKINCARE AT PRP IN SEATTLE
PRP In Seattle is a medical spa that bridges the gap between medicine and aesthetics. Our team uses advanced medical techniques to make cosmetic improvements to the skin, hair, and body. Though, the Glow Up Package is one of our offerings that can potentially treat painful medical skin conditions such as cystic acne as well as beautify the skin. The master estheticians in Seattle provide the best microneedling with PRP and chemical peels Seattle, Bellevue, and Kirkland have to offer.
The Glow Up Package is a proprietary treatment regimen designed by our team of experienced master estheticians in conjunction with other skin experts and plastic surgeons. Offered at all three of the PRP In Seattle locations, the Glow Up Package is among the best PRP skincare available.
To schedule a consultation with a master esthetician, call us at 206-279-2112. You can also reach out online via chat or our contact form.