Our hair is one of the leading factors that drive our appearance.
We style, cut, color, straighten, and curl it, but if you begin to lose it, it can cause major effects on your look, self esteem, and mental health. There are many hair restoration options available over-the-counter and through cosmetic surgeons, so it can be hard to find the best and most effective treatment for your hair loss. For many, a regenerative hair loss treatment such as PRP hair restoration in Bellevue will likely help them see the results they want. At Seattle Plastic Surgery, we are constantly working to identify the newest and best methods of hair restoration available including the newest form of PRP, PRF hair restoration. Using the latest technology and state-of-the-art medical equipment, PRP in Seattle offers PRP hair restoration to residents in the Seattle, Bellevue, and Kirkland areas.
What is PRP?
Platelet rich plasma, also known as PRP, is a component of blood that helps your blood clot correctly and heal wounds. PRP contains growth factors, hormones, and proteins which all contribute to the healing and regenerative properties in PRP.
Since PRP is in our blood, an intricate process is required to separate the PRP from the rest of the blood. To do this, we use a specialized medical instrument called a centrifuge. After we draw your blood, we place it into the centrifuge. 
From there, the centrifuge spins your blood at an extremely fast speed. This allows the PRP to isolate itself from the blood. When all finished spinning, the PRP is visible and will look yellowish in color. This is what your cosmetic surgeon or qualified injector will inject into your scalp.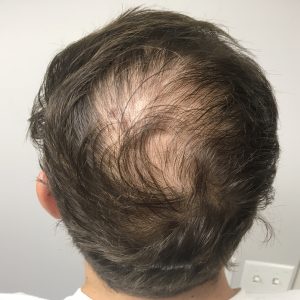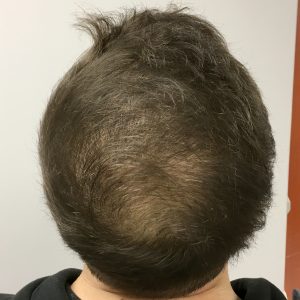 HOW DOES PRP WORK FOR HAIR RESTORATION?
PRP therapy is a staple in regenerative medicine and often used in physical therapies to help heal muscles and skin. The cosmetic industry has recently begun to use PRP in a variety of ways including to supplement microneedling, as an ingredient in injectables to stimulate long-lasting results, and in treatments promoting hair growth.
When your provider injects PRP into your scalp, the PRP begins to strengthen existing hair follicles and repair damaged or shrunken ones. The way it works involves the natural tricking of your body. Because PRP is integral to the healing of wounds, when your body senses the presence of PRP in your scalp, it automatically assumes there is a wound that needs healing.
Your body sends its defenses to the injection sites, but because there is no major wound, the body begins to produce extra collagen which helps reinforce your existing hair follicles and repair the damaged ones. While this alone cannot guarantee new hair growth, it provides ample environment for hair because the skin of the scalp and the hair follicles themselves are renewed.
How Is The Procedure Performed?
At the beginning of your appointment, your provider will draw your blood and place it in the centrifuge. This will take about 20 minutes, so during this time, your provider will numb the treatment area with either numbing cream or with Lidocaine shots. By the time the PRP is fully isolated, you should be numb and ready to go.
Using a small needle, your provider will precisely inject the PRP into your scalp. They are careful to target the specific areas experiencing thinning hair and miniaturization of the hair follicles. While they inject the PRP perpendicularly, you should feel no pain. There is also no risk of your body rejecting the PRP because it comes from your own body and no foreign material is introduced during the process.
Who Performs Kirkland PRP Hair Restoration?
At Seattle Plastic Surgery, a cosmetic surgeon or certified injector will perform your PRP hair restoration. Our injectors train underneath our doctors and complete a supervisory period where they refine their skills. PRP hair restoration with an injector comes at a lower cost than with a doctor.
When you schedule your appointment, you can choose between one of our cosmetic surgeons or an injector. Our injectors typically have a more open availability, therefore, if you want to begin your PRP hair restoration in Bellevue as soon as possible, an injector may be the best provider for you.
WHAT ARE THE BENEFITS OF BELLEVUE HAIR RESTORATION?
Beyond seeing new and stronger hair growth, there are a variety of benefits to PRP hair restoration in Bellevue. A few benefits of seeking PRP hair restoration include:
No risk of rejection as the PRP comes from your body

Less invasive than a hair transplant

May enhance and improve results/retention after hair transplant

No incision

No scarring

Short procedure time (30 minutes to 1 hour)

No recovery time

Quick results

Can combine with stem cells or other treatments
Contact Us
Fill out the form below to schedule your appointment or ask any questions you have.
WHEN CAN I SEE RESULTS FROM MY SEATTLE PRP HAIR RESTORATION?
Hair growth does not happen overnight, even with a regenerative and restorative process like PRP hair restoration. During the six months of treatment (one treatment per month), you can expect to see some moderate increased hair growth in the area, like peach fuzz or stubble. Most patients begin to see a difference about one to two months after their last PRP hair restoration treatment. Everyone's body and bodily response is different and so when you see your new hair will vary on a variety of factors.
Results will continue to show in the months after treatment. The healing process that PRP kickstarts will continue, even after you stop stimulating the hair follicles. Normally, our providers recommend coming in once a year for follow up treatments to continue stimulating the follicles. The number of rounds of treatment you will need will depend on the results you see after your first round of treatment and your goals.
The easiest way to help along and maintain your results is to continue to live a healthy lifestyle. A good diet and exercise will ensure you have the nutrients necessary to keep your hair. Avoiding excess stress and taking care of your hair will also help keep your existing and new hair.
If your hair is caused by a condition such as trichotillomania or stress, it is important to continue seeing a professional and keep in contact with your doctor. Actively managing these conditions will prevent future hair loss.
Is PRP Hair Restoration Permanent?
It is hard to say if your PRP hair restoration results will remain permanent because it does not slow down aging or reverse genetics. If you continue a healthy lifestyle and seek touch up treatments as needed, you may see long lasting results.
Will I Need Time Off Work?
Since PRP hair restoration is an injection treatment, there are no major side effects or complications associated with it when safely injected like at Seattle Plastic Surgery. After PRP hair restoration in Seattle, you can expect some mild tightness and a sensation that feels like a minor sunburn. This should fade a few days after treatment.
While you should not have any issues returning to work the same day of your procedure (if you choose to), our providers may advise that you take the rest of the day to rest, simply for your own comfort.
PRP hair restoration is a safe procedure, but it does require a blood draw and a healthy platelet count. If you have a history of difficulty with either of those, your provider may recommend a different hair therapy plan.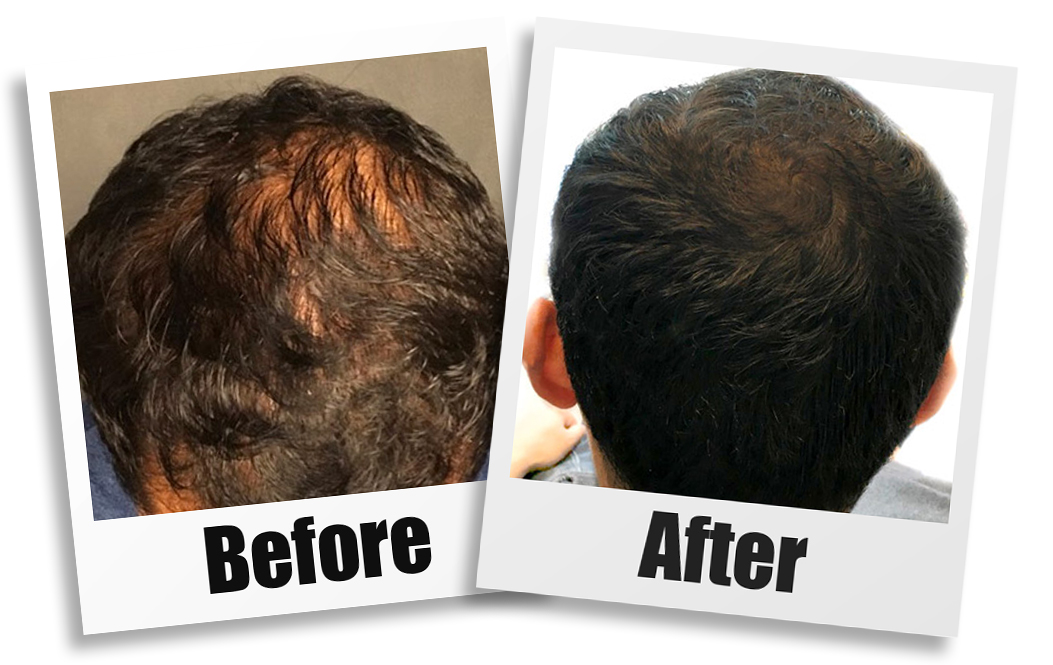 DOES IT TREAT ALL TYPES OF HAIR LOSS?
PRP hair restoration is an effective way to treat hair loss. Most commonly, our providers see patients experiencing hair loss due to aging or genetic disposition. These patients often find satisfactory results from PRP hair restoration in Kirkland.
There are many reasons for hair loss. The vast majority of which we have no control over. A few reasons people experience hair loss that may be treated with PRP hair restoration are:
Androgenetic alopecia

Male pattern baldness

Genetic predisposition to hair loss

Trichotillomania

Certain medications or medical treatments

Natural loss and thinning from aging

Injury or burns
For people experiencing hair loss due to stress, medications or medical treatment, or medical problems like thyroid disease, controlling these conditions or stopping treatment will often allow hair to come back. Kirkland PRP hair restoration will sometimes work to stimulate new growth, but is not always necessary.
Bald patients or those who no longer have active hair follicles, PRP hair restoration may not be an effective method. The best way to know if PRP hair restoration is right for you is to schedule a consultation at Seattle Plastic Surgery.
WHAT IS THE PRICE OF PRP HAIR RESTORATION IN KIRKLAND?
The price of PRP hair restoration in Kirkland will depend upon who you choose for your provider. With a cosmetic surgeon, PRP hair restoration starts at $3,500 for a round of six treatments. If you choose a qualified injector, PRP hair restoration begins at $3,000 for a round of six treatments. These prices can fluctuate once your treatment plan is in place, if you need more treatments or other procedures in combination with PRP hair restoration. 
All of our prices include the full cost of treatment, facility fees, the materials needed for treatment, and the cost of the anesthetic method used. You can feel confident that our prices reflect the full scope of the average PRP hair restoration procedure.
Typically, our providers recommend six treatments over the course of six months because this protocol has proven to get past patients optimal results. After a thorough consultation, your provider will advise you to the best treatment plan for your specific hair loss needs.
CUSTOM PRP HAIR RESTORATION IN SEATTLE, BELLEVUE, AND KIRKLAND
The cosmetic surgeons and injectors at PRP In Seattle have years of experience in cosmetic procedures, including multiple types of hair restoration. Our cosmetic surgeons are board-certified and our Nurse Injectors are Registered Nurses who underwent specific training in PRP injections.
Our facility is welcoming and friendly. You will feel perfectly comfortable during your PRP hair restoration in Seattle. The office is located in Seattle on Broadway, across from Swedish. Right in the middle of the medical heart of Seattle, we make sure your PRP hair restoration treatment is the safest and most effective procedure possible.
At your consultation, your provider will review your medical history and the causes of hair loss. After discussing your goals and expectations for treatment, they will recommend the best hair restoration treatment for you. Every step of the way, you can ensure that we will custom plan your PRP treatments to fit your hair loss needs and goals. We want to help you achieve the best results possible.
To schedule a consultation at PRP In Seattle, call us at (206) 279-2112 or contact us online.