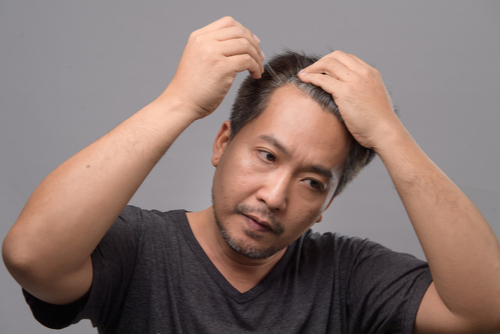 Placenta cells contain a wealth of nutrients and proteins. In non-surgical hair restoration, donated placenta cells are harvested and mixed with platelet rich plasma to promote new hair growth. This is usually done to treat thinning hair or early genetic hair loss such as male pattern baldness. Wanting to understand the full scope of treatment, patients often ask, "What does placenta do for the hair?"
As mentioned, placenta cells contain many proteins and nutrients that can repair hair follicles, aid in hair growth, and can make hair look shinier and healthier. Placenta also contains a unique protein hormone known as human placental lactogen (hPL). hPL shares structural components with growth hormones and can help bind together with other growth hormones. 
This can interact with the growth hormones in PRP to create a stronger foundation for your hair to grow. Using this combination of PRP and placental cells has shown to be an effective non-surgical hair restoration method. It involves the same injections as PRP hair restoration with little downtime or recovery. 
Many topical placenta hair treatments exist to improve the quality and look of the hair. However, this can also apply to medical treatments such as hair restoration. To learn more and schedule a consultation, call us at 206-279-2112. You can also reach us online via chat and contact form.